Compared to other hosting provider's SiteGround's hosting plans are simplicity itself. They don't confuse you with a ton of options and confusing names. For their shared and WordPress hosting, they have just three tiers:
StartUp
GrowBig
GoGeek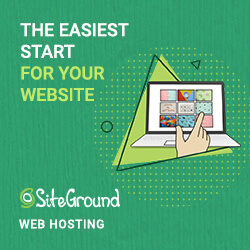 They use the same plan structure over and over. In fact, there is no SiteGround VPS server plan! Instead, the link you see to VPS servers in the table points you to the GoGeek plan, which is suitable for 100,000 monthly visits.
I've often called SiteGround the "Apple" of hosting providers. Their choices are limited but solid. If you want more options and more choices, then I suggest InMotion hosting.
Any more than that, and you'll need a dedicated server. It's actually a managed VPS solution that they call "Semi-dedicated Hosting". It indicates that the GoGeek plan will provide you with the same performance of a VPS. Quite a boast!
This SiteGround hosting review will show off some of the features available to not just the GoGeek plan, but others as well.
Who Owns SiteGround?
SiteGround is one of the few hosting companies not owned by EIG or GoDaddy. SiteGround is owned by a team of partners, of whom Tenko Nikolov is the CEO. So the total managing partners are:
Tenko Nikolov
Reneta Tsankova
Niki Todorov

They have offices at a couple of locations around the world. Here are a few of those locations.
Madrid, Spain
Stara Zagora, Bulgaria
Plovdiv, Bulgaria
Sofia, Bulgaria
SiteGround Customer Service Details:
In all the years that I've hosted with them, I've had excellent customer service.
Here's the SiteGround customer service phone number: 1-800-828-9231
They're also available via SiteGround live chat through the "Support" of their dashboard. Here's how to get to it. After logging in, click "Support" at the top like this:
This will take you to a page with documentation, where you can search for answers to specific questions etc. If you scroll right to the bottom, you'll see the following message:
"Our support team is available to you 24/7 via phone, chat or ticket. Proceed to contact us here"
Click this, and a pane will open up asking you to select the kind of problem you have. Let's say I'm unable to access the site:
On the next page, you'll be asked to describe your problem. In a few words explain what the issue is. Let's say I'm facing a bad gateway error:
Now when you continue, you'll see a bunch of options appear below. Choose "Post to Chat" to begin your chat session with customer support! We can't have a SiteGround review without discussing the customer service. And from what I can see, it's pretty good.
Does SiteGround Oversell its Servers?
All shared hosting providers host multiple accounts on the same server. SiteGround is the most transparent about it and has strict limits on the number of seconds of CPU time each account can use. Each account also has limits on the number script executions and processes – both for a 24 hour period and for a 2-hour period.
In fact, SiteGround shared hosting is more of a VPS than seen anywhere else. They also use a specialized "Hive" technology that isolates each account from the other. So even if one account on the shared server gets hacked, and its permissions are compromised, the attacker can't mess up your installation.