HostGator began in 2006 and is located in Austin, Texas. Since then, they've hosted over 8 million domains.
Like GoDaddy, although they are primarily a hosting company, they wanted a platform for people to build websites like Wix and Weebly. In fact, they originally used Weebly as an integrated website builder before launching their own builder.
Ease of Use: 4 out of 5
 Pros of HostGator Website Builder
#1: Quick and Easy
HostGator is a good choice for someone who is new to website building and looking for something that's quick and easy. They offer a drag and drop style website builder and prebuilt sections and pages. They offer over 100 themes, so finding one to fit your style shouldn't be too difficult.
#2: Great Hosting 
HostGator offers good uptime and load times. Because they started as as a web hosting company, their hosting services are really good, and they're 99% guaranteed.
#3: Integrations
HostGator sites automatically integrate with both social media and PayPal.
#4: Separate Mobile Editor
This could be seen as a pro or con. They have a separate mobile and desktop editor, which means that if you're interested in being able to edit these two types of websites separately, this is a good choice. It offers customization for the separate devices.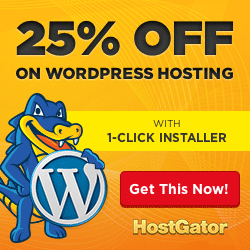 #5: Excellent Support
US based support 24/7/365 technical support through phone, live chat, and email.
#6: Unlimited Bandwidth and Pages
HostGator offers unmetered bandwidth and storage, and unlimited pages. However, the word unmetered is a little misleading, because they do have a cap on how much data and bandwidth a website can use. You won't be charged extra if you cross over, but you'll get an email letting you know that you've exceeded their threshold. be going against their terms of use.
#7: Good Extras
HostGator is partnered with Google AdSense, Bing, and Yahoo for monetization and searches. They also offer free business listing through Yellow Pages.
With HostGator you can also expect unlimited email addresses, mobile friendly templates, SEO tools, and eCommerce shopping carts.
You also get free site transfer with HostGator.
 Cons of HostGator Website Builder
#1: Fixed Template
Once you've selected a template, you can't change it later without starting from scratch. And while 100 templates is a lot, it's not as many as some site builders.
#2: Prices Aren't Fixed
The introductory prices are very affordable, but are not fixed and could be subject to price raises in the future once your promotional period has expired.
If you're already signed up with HostGator for their hosting services than you will get their Basic building plan free of additional charge. The higher plans will cost extra.
This does make their pricing plans a little confusing because you'll be paying a cost for hosting and potentially a cost for your website builder in addition.