FatCow was founded in 1998 and it focuses on providing small businesses and private individuals with web hosting solutions. With over 15 years' experience in this field, FatCow has not just been around a long time, but it has survived and even thrived all this time by carving a nice little market segment for itself catering to smaller users.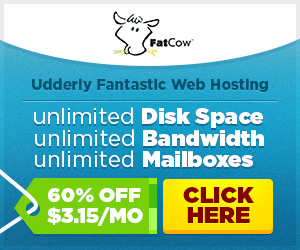 When it comes to having a reliable host that is affordable when compared to the rest of the competition, FatCow gets things right, and it has numerous plans that are all budget-friendly and tailored for the little guys.
The company has grown over the last decade and a half and leverages key competencies of dedicated workers, and a belief in good old fashioned high-quality service. Every effort is made to make FatCow services easy to run and launch, and to ultimately deliver value to your business's bottom line.
Dedicated servers are available for customers who do not want to share any resources with other sites, or who want root access to their server. Shared plans are FatCow's most popular package, and they are not only budget-friendly and easy to set up, but they do not include any unnecessary features or add-ons, and are perfect for freelancers, or novice bloggers.
WordPress and Joomla support are available to help setup most types of simple web pages, regardless of the user's technical ability, and the low-level starter plan is almost a dream come true for users who do not want to have to dish out a lot of money for what might end up being a failed domain or an unsuccessful business.
Online galleries or small project sites most often go for this plan because risk minimization is always welcome, so consider the low-level plans if you want to keep things as lean and Spartan as possible.
Security
"How secure is your site with FatCow?"
FatCow know that good safety and security are important to its users, which is why it scans for malware on sites, helps prevent your site from being blacklisted and has a SiteLock badge which shows protection and instils trust. FatCow is great for WordPress users with regard to safety features as SiteLock's firewall and vulnerability scans help prevent any hacking or automated attacks on the platform.
As well as this, FatCow has three different security plans ranging from $1.94 to approximately $38.75. The three plans offer different services like automatic malware removal, daily vulnerability scans and web application firewall.
Price and customer satisfaction are FatCow's main unique selling points, so you're in safe hands with them if you are just launching your first website or want to take things slowly. Founded on the idea that a simpler, non-technical approach to web hosting could really shake up the market, the company has stayed true to this belief until today.
FatCow strives to provide simpler, friendlier web hosting services to all its clients, and this is what it does best. If you sign up with these guys, you'll be refreshed by their customer service representative's religious abstinence from technical mumbo jumbo, as well as their commitment to helping you do the things you want to do with your website.
Features
"Udderly reasonable offerings"
FatCow's web hosting simplifies everything, and this includes getting your website on the net. Towards this end, they created a 'one plan, one price' philosophy. FatCow's web hosting plans have everything you need to get your website up and running, with easy setup and immediate deployment.
Full hosting plans include WordPress blogs, VPS services, dedicated servers, domain registration, and affiliate and referral plans. There are also options available for cloud hosting, WordPress (naturally), Joomla, and even search credit with Bing and Google!
If a full plan is more than what you're looking for, there is a lower-level plan that provides a domain name and an email address, which are the bare necessities to get you started. You can upgrade a low-level launch of your website with a full product when you're ready or, if you have the knack for it, use FatCow's website builder to build a page that is truly your own.